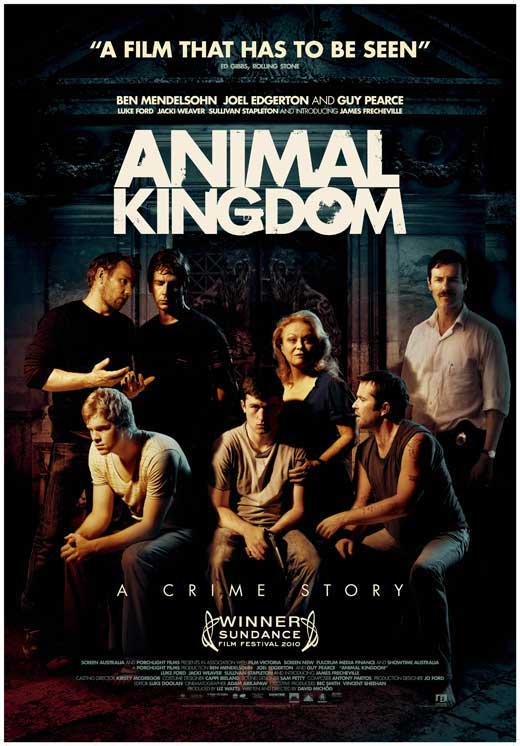 hmv review: Animal Kingdom - Written by Sue Murphy
Animal Kingdom
Director: David Michod
Cast: James Frechevill, Guy Pearce, Joel Edgerton, Ben Mendelsohn, Jacki Weaver
 
I'm not sure if you have seen Mother's Day, but the subplot of Animal Kingdom involving a mother and her psychopathic children is what it aspires to be.  However, in Animal Kingdom this runs in parallel with a much more suffocating and dramatic story.  Loosely based on the crime scene in Melbourne in the 1980's, the Pettingil family and the Walsh Street Police shootings, writer and director David Michod claimed he was interested in portraying the Australian underworld.   Animal Kingdom holds the record for nominations at the Australian Film institute Awards at 18, one of which went to Joel Edgerton for his portrayal of criminal Baz Brown.  The critical acclaim that has been lavished on the film is not without reason, not only is this one of the finest Australian films you will ever see, it is perhaps one of the finest films you will ever see, period.
 
Following the death of his mother from a drug overdose, 17-year old Joshua "J" Cody (Frecheville) with no one to care for him, calls his grandmother Janine "Smurf" for a place to live.  Smurf, the overbearing matriarch, with a bordering obsession for her sons, moves J into a lifestyle his mother has attempted to keep him shielded from his entire life.  Her sons are criminals, some of Melbourne's most notorious armed robbers, known to the police and extremely dangerous and so J, unintentionally becomes involved.  Andrew "Pope" Cody is the ringleader, who along with his best friend Barry "Baz" Brown and brothers Darren and Craig, run a mid-level drug operation.  Things soon spiral out of control when Pope sets up an ambush of policemen, and the whole family, including J, is dragged in for questioning.  J, who has learnt the better of trusting anyone in his dysfunctional family must now also contend with Detective Nathan Leckie, who promises his safety.  Suspicious and marred by the events, J must ensure his own survival.
 
Animal Kingdom is one of those films, you know the ones, they creep up from behind and you feel like you have been sucker punched by the end.  The performances are entirely flawless; Jacki Weaver earned herself an Oscar nod for her role as Smurf, always cool and collected, calculating and manipulative, J, (and therefore the viewer) is never entirely sure where he stands with her.  Edgerton is stunning as Baz, and even though he spends a mere 23 minutes on screen, is one of the propelling forces in the film.  However, Ben Mendelsohn as Pope is the stand out of the film, initially you never realise his influence on the rest of the family, and then it's almost as if you are being slightly strangled throughout.  Relentlessly intimidating and sly, the others live in fear of his every move.  The entire production, the colours, the camerawork, the conversations are almost dreary, lifeless,  and this only plays into the helpless nature of J, he literally has nowhere to go and caught in the middle of this struggle, his intelligence allows him to be one step ahead of the others.  Brilliantly acted, wonderfully shot, this can't be recommended enough…
And that final scene! Wow, that final scene….